How much time did you spend researching your last car or TV to find the best deal on a quality product? Now ask yourself, how much time did you spend researching your last medical procedure for the best price and quality service? My guess would be that you spent more time on the first question than the second.
Welcome to SmartShopper! Register today and start saving!
We want to change the way you search for medical services and incentivize you for your shopping savvy. Clinics, hospitals and other facilities may have different expenses for the services they offer. Not only do you save on out-of-pocket costs when you choose a cost-efficient location, you get rewarded for being a smart shopper.
Visit bcidaho.com/smartshopper and watch their short video tutorial.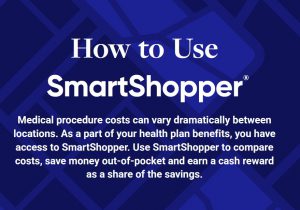 You can shop for routine procedures, preventive exams, imaging scans, and scheduled surgeries. Explore your options that compare both cost and quality using nationally recognized metrics as well as ratings and reviews from other patients. You can explore your options online or call one of the SmartShoppper personal assistants to guide you through the process. Click on the "How to Use SmartShopper" logo to learn more.
To access SmartShopper from the Blue Cross member portal you will need to:
Go to members.bcidaho.com and log in to your member account
Select Find a Doctor
Search for care by selecting Browse by Category or using the search bar
Select Next Page and your search results will show you facility names, locations and the SmartShopper cash reward amount if eligible.
The SmartShopper program is offered by Sapphire Digital, an independent company. Incentives available for select procedures only. Payments are a taxable form of income. Rewards may be delivered by check or an alternative form of payment. Members with primary coverage under Medicaid or Medicare are not eligible to receive incentive rewards under the SmartShopper program.