Having a regular doctor – also called primary care provider or PCP – and dentist not only helps you get healthy but stay healthy. A PCP helps you navigate all of your healthcare needs, from big to small. They will review your medical records and medications, discuss your personal medical history as well as your family members', and conduct general exams. Follow-up visits can be centered on specific healthcare goals such as strategies to improve or manage wellness or to treat an illness. Need more extensive care than your PCP provides? A PCP can also help coordinate care with specialists as well.
Where and when to get care [PDF]
Here are a few ways to find in-network care:
Visit members.bcidaho.com and log in to your member account.
Call Blue Cross at the number on the back of your member ID card for help locating a provider.

All this information at your fingertips too!!!
Download the Blue Cross of Idaho Member App for Apple or Android devices
Get your member ID card: Show and fax your member ID card whenever you get care
Find care: Find in-network doctors, clinics, hospitals and urgent care
Keep track of your plan: View claims for everyone on your plan and see how close you are to meeting your deductible for the year
You can also connect to the Blue Cross of Idaho Rx website from the member app to price prescription drugs and find in-network pharmacies

Haven't set up your Blue Cross of Idaho member portal account? Have your Member ID handy and visit members.bcidaho.com.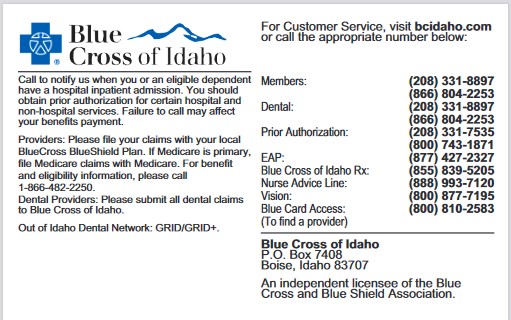 The phone numbers to reach Customer Service for your medical and dental coverages, vision and prescription drug benefits, and Employee Assistance Program (EAP) are as close as your wallet or purse. Printed on the back of every Blue Cross of Idaho member ID card are local and toll-free numbers to contact your carrier for inquiries about coverage, verify claim status, set up an appointment with a counselor and more.

Lost your Member ID card? You can view or request a new ID card by logging in to your Blue Cross of Idaho Member Account, https://members.bcidaho.com, and select "Need your ID card?" from the center section of the page.
The Office of Group Insurance and Blue Cross of Idaho have provided a variety of ways for you to access your information for those circumstances where you need it most.
You may also contact the Office of Group Insurance by phone, email or through the website with questions about the benefits administered by our office.