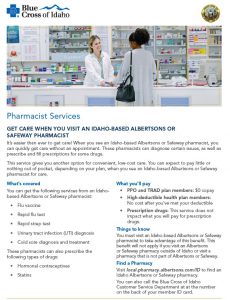 The Office of Group Insurance and Blue Cross of Idaho are continuously looking for ways to remove barriers to care and make health care more convenient for members.
With that goal in mind for 2022, we are excited to share that starting January 1 the state of Idaho health plan launched a pilot project with Idaho-based Albertsons and Safeway pharmacists to provide coverage for the diagnoses of certain issues, as well as prescribing and filling of certain prescription drugs.
What's covered?
Flu vaccine
Rapid flu test
Rapid strep test
Urinary tract infection (UTI) diagnosis
Cold sore diagnosis and treatment
Hormonal contraceptives, and
Statins
Several pharmacies currently offer similar services on a cash-pay basis, but this pilot project will make these services a covered benefit under the health plan at $0 copay for the PPO and Traditional members. High-deductible plan members have no cost sharing after you've met your deductible.
Keep in mind, coverage for this service is currently limited to Idaho-based Albertsons and Safeway pharmacists. Visit local.pharmacy.albertsons.com/ID to find an Idaho Albertsons or Safeway pharmacy near you.

Haven't set up your Blue Cross of Idaho member portal account? Need to order more member ID cards? Need to see how much you've accumulated towards meeting your deductible? Have your Member ID card handy and visit members.bcidaho.com.